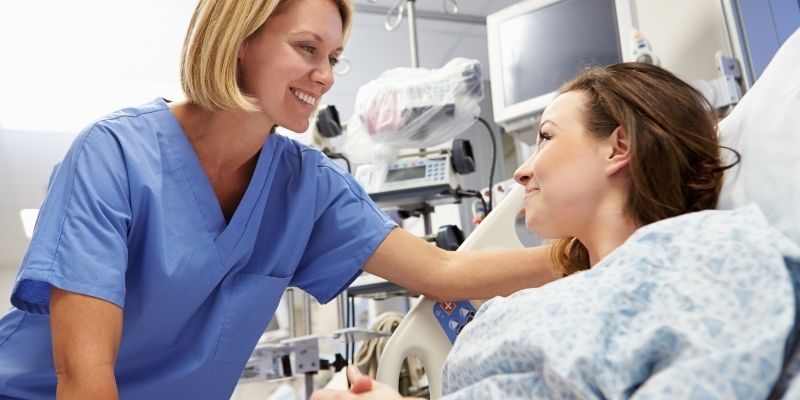 There are so many reasons why people feel compelled to dedicate their lives to working as a Nurse, whether this is a lifelong vocation or something they choose to pursue in their later years.
Working as a Nurse provides a lifeline to so many people who face challenges with their health. Yes, they will receive their treatment from doctors, surgeons and medical specialists, but the ongoing care they receive is provided by a range of highly skilled, diligent and nurturing nursing professionals.
This care can take many forms. Nurses can support patients emotionally as they come to terms with a new health concern or learn to manage an enduring disorder. They can even physically assist patients as they regain mobility and return to good health. In more severe cases, the educated watchful eye of a Nurse can be the difference between the patient pulling through a life-threatening condition, or not.
For these reasons and more, nursing is one of the most trusted professions, and one that many people working within it find rewarding both personally and professionally. If you, like many others, see this role as a perfect fit, you likely have questions about how to get started. To help, we've compiled an extensive list of FAQs surrounding how to become a Nurse, with clear answers to each.
Q. Do I Need Qualifications to Become a Nurse?
Nursing is classed as a profession because it requires a systematic body of knowledge which delivers:
A framework for nursing practice
A commitment to a community service
Continuing Professional Development (CPD) to maintain a unique role that requires autonomy, responsibility and accountability
Standards and a code of ethics
Evidence-based practice
Standardised formal higher education
For these reasons, the latter especially, UK nurses need to complete a certain path of education and obtain an approved higher-level qualification before they can gain their registration and practice legally.
So, the answer to the question is 'yes', you do need qualifications to become a Nurse. Continue reading to discover what are the qualifications to become a Nurse.
Q. Do You Need a Degree to Be a Nurse?
Yes, you need to study nursing at university before you can start your nursing career. Many people wonder 'Can I become a Nurse without a degree?', but with the level of knowledge required to perform the role effectively, it just isn't possible.
Every Registered Nurse you come across in the healthcare system has dedicated the time required to study degree level nursing, whether they completed a nursing apprenticeship or committed to full-time classroom study.
Q. What Degree Do I Need to Become a Registered Nurse?
To achieve Registered Nurse status, you need to complete a nursing degree that is approved by the Nursing and Midwifery Council (NMC). This makes sure you and any other student Nurse entering the profession works in line with regulated standards and meets set requirements for health and character.
You have the choice of studying a nursing degree in one of the four main areas of nursing: 
Adult Nursing 
Child Nursing (Paediatrics) 
Learning Disability Nursing 
Mental Health Nursing 
Some universities offer combined nursing degrees which cover two of these areas together. Completing any one of these nursing university courses will enable you to apply for your Nurse registration with the NMC and pursue new graduate Nurse positions.
Q. What A Levels Do You Need to Be a Nurse?
In order to study nursing at university, you will need to meet the nursing degree entry requirements. Traditionally, the preferred way to tick the Level 3 qualification box was by obtaining multiple A Levels. In the case of university nursing courses, this would be at least two A Levels relevant to nursing.
Most approved nursing degrees will be looking for applicants with A Level Biology, but the other Sciences and Social Sciences like Psychology and Sociology would also be desirable.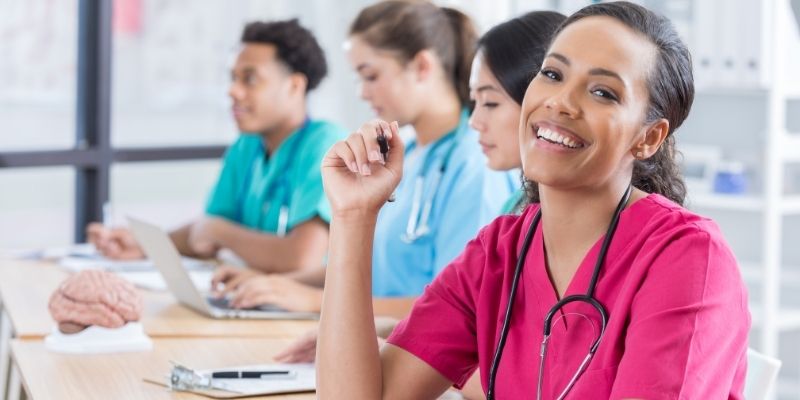 Q. Will an Access to Nursing Course Get Me onto a Nursing Degree?
Yes! An Access to Higher Education Diploma (Nursing) is designed to be an ideal equivalent to the A Levels for nursing degrees.
As a Level 3 qualification, an Access to Nursing course equips you with the standard of knowledge required to hit the ground running at degree level. Plus, the vocation specific modules arguably put you in a better starting position than A Level students who studied less closely related subjects.
You can also study a foundation degree in nursing which can help you bypass the A Level requirements, but these can be significantly more expensive than an Access to Nursing course.
If you don't have A Levels but want to become a Nurse, an Access to Nursing Diploma is the best option for you!
Q. What GCSEs Do You Need to Become a Nurse?
You need at least 5 GCSEs at grades C/4 and above to become a Nurse. These must include Maths and English, and GCSE Biology is also a common entry requirement.
This is because nursing degrees, like all degrees, don't just look at Level 3 qualifications when assessing whether you meet their entry requirements. Level 2 qualifications like GCSEs are also taken into account, as these are the first formal record of your academic ability.
Q. Can I Study Functional Skills Instead of GCSEs for Nursing?
Yes, most universities now accept Functional Skills Level 2 qualifications as alternatives to GCSEs in Maths and English. However, if you need a Science like Biology, there aren't any Functional Skills alternatives to this subject.
Q. How Long Does It Take to Become a Nurse, UK Residents?
This depends on the qualifications you currently hold. If you need to get everything from GCSEs to A Levels, or their alternatives, prior to studying a nursing degree, your journey will be longer than those who are ready to go straight to university.
If you do need to get these pre-university qualifications for your nursing degree, the quickest way to do so would be to study these courses online. That way, you can blitz through the course materials and get your qualifications faster than you would if you were studying in a group in a classroom.
An Access to Nursing Course, for instance, has a one-year time limit but most learners have it finished in 9-12 months. If you just need GCSE Maths and English to accompany this, you can get the Functional Skills equivalents alongside this in a matter of weeks.  
This would mean you could be university ready within one year, rather than taking 2-3 years to get A Levels and likely the same amount of time to obtain the required GCSEs.
In terms of your degree, you can expect the duration of different nursing degree options to be:
Full-Time University Degree – when studying full-time this will be 3-4 years, often you get the option of adding a year on to gain a master's of nursing 
Part-Time University Degree – 5-6 years 
Apprenticeship Nursing Degree – this will be 4 years when completed in a full-time capacity 
Q. What Experience Do You Need to Be a Nurse?
You don't need any prior work experience to get started on your nursing studies. As nursing is now accessible by degree only, everything you need to get started is provided in the course of your university studies and practical training.
Work experience is, however, extremely useful and can help you make sure that the nursing profession is for you. So, if Nurse work experience opportunities arise, be sure to take advantage of them!
Q. Can I Train to Be a Nurse at 50?
Yes, you can! You're never too old to become a Nurse. Our Access to Nursing course has even been designed with older learners in mind, so you will find the content of the course more relatable than A Levels aimed at school leavers.
How to Become – Different Nursing Specialisms
Now you know how to get into nursing, we will explain how to get into some of the most desirable nursing roles that often require additional qualifications or specific training courses.
How Do I Train to Be a Mental Health Nurse?
You can become a Mental Health Nurse once you have completed an NMC approved degree in mental health nursing. This is the preferred and most direct route into the Mental Health Nurse jobs, as your training and the theoretical element of your studies is specifically geared towards understanding the complex issues and enduring disorders.
However, if you have qualified as a Nurse by completing a nursing degree in adult, child or learning disability nursing, you can complete additional studies to become a Mental Health Nurse if this becomes your ambition at a later date.
This is typically done by completing an 18-month mental health nursing conversion course. If you have practice-based learning or a degree in another area of health like life and medical science, social work or psychology, you could obtain accreditation of prior experiential learning (APEL) which could shorten your Mental Health Nurse training to two years.
What Qualifications Do You Need to Become a Nurse Practitioner?
If you're wondering how to become a Nurse Practitioner, you can work in this role by pursuing a master's degree in nursing after your bachelor's degree. This usually takes between one to two years to complete and is essential in building your skills and knowledge.
After this, you will be able to handle tasks that would normally be performed by physicians. This can be anything from providing primary and acute care, to diagnosing health conditions, administering and prescribing medication.
How Do I Become an Aesthetic Nurse?
For learners looking into how to become an Aesthetic Nurse, you can get into this role with any of the approved nursing degrees. However, studying an adult nursing degree would be the closest area of study to benefit your career.
To help you stand out from other aspiring aesthetic nurses, you could also study complementary courses in anti-ageing and other areas of study closely related to aesthetic treatments.
How to Become a District Nurse?
Many learners on the path to nursing wonder 'What is a District Nurse?'. These nursing professionals typically provide care for patients in their homes or residential care homes, as well as provide support and advice to their families. This helps people living with ongoing conditions live life as independently as possible and keeps hospital admissions and re-admissions to a minimum.
If you like the sounds of the District Nurse role and want to get into this line of work, once you have graduated from your nursing degree, you will need to apply for a district nursing training programme. This is also known as a specialist practitioner programme, and its degree-level training that typically takes around one year to complete.
How Do You Become a Nurse Anaesthetist?
If you want to know how to become a Nurse Anaesthetist, you can work towards this Nurse specialist role once you have graduated as a Nurse, demonstrated three years of post-qualification work experience and can provide evidence of recent, successful academic activity.
After this point, you are eligible to apply for trainee anaesthesia associate positions and complete the Physicians' Assistant (Anaesthesia) Postgraduate Diploma. This programme lasts for 27-month and includes a combination of academic study, clinical training and three months of supervised practice at the end.
From here, you will be able to assume the role of a qualified Nurse Anaesthetist. This will allow you to administer general anaesthetic, monitor the vital signs of patients, complete pre-surgical assessments and post-surgical care in acute care units like accident and emergency wards or intensive care units.
How Can I Become a MacMillan Nurse?
For many people, cancer has affected their lives in one way or another and this direct or indirect experience can lead them to want to help others going through a similar experience. As a Macmillan Nurse, you specialise in cancer care and provide specialist advice on any medicines and other support patients battling this disease may need.
To become a Macmillan Nurse, you need to first gain five years of clinical experience as a Nurse. As Macmillan nurses are specialists in the treatment of cancer patients, two years of this clinical experience must be in cancer or palliative care.
After this, you can apply for nursing positions with the Macmillan Cancer Support group, and if you fall short of these requirements, there are developmental roles offered which will help you develop the knowledge and skills required.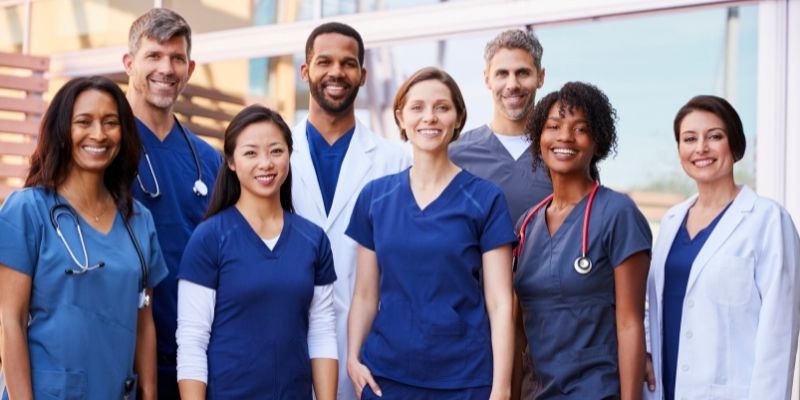 What Does it Take to Be a NICU Nurse?
Any aspiring Nurse looking into how to become a Neonatal Nurse must hold a nursing degree in one of the four areas, though a child nursing degree is preferable. Graduates of an approved midwifery degree can also progress to become a Neonatal Nurse.
Other than this, there are no specific additional qualifications needed, though experience or knowledge of neonatal related issues is desired. For this reason, it's wise to request a placement in a neonatal unit if you can get one.
Once you secure an entry-level neonatal nursing role, you will get six months of experience under your belt before completing professional development that teaches you about many different aspects of neonatal nursing.
Start Studying Nursing Online!
Our FAQs have provided a detailed snapshot of how to become a Nurse, UK qualifications required and the requirements for numerous nursing specialisms. If you're sold on this highly demanding and challenging, yet undeniably rewarding and fulfilling career, Stonebridge Associated Colleges can help you take the next step towards it.
Our online Access to Nursing Course allows you to tick the box in the Level 3 qualification requirements, so you can become a Nurse without A Levels.
Besides providing a fast-track route to your nursing degree, it allows you to get qualified from home. Find out more about the many benefits you gain from choosing to study nursing online with Stonebridge by talking with our Course Executives today.
Call them now on 0121 392 8288 or contact us online. Alternatively, click below to view our online Access to Nursing Course in more detail!